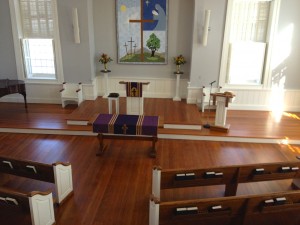 Current Bulletin: September 18th, 2022
Worship is the central gathering time for our church. Worshiping together reorients us to God's Great Story and our part in it. Weekly worship is Sunday at 11 am.
for seasonal worship services, see News & Updates pages.
We celebrate the Lord's Supper the 1st Sunday of each month.
We worship together as a family of God- and families with children are a part of that. Kids are welcome and have permission and space to be antsy. There are activity bags to use during the service. There is also a nursery attended for younger ones during the school year.
We enjoy singing hymns and songs. They are usually accompanied by the organ. We follow a traditional liturgy in the reformed tradition. We strive for the service to be meaningful and understandable while leaving the space to pray and listen well.
Our facilities are set up for easy access. Parking is on either side of the foyer- in the parking lot off of Middlefort Rd. or the U-drive off of River St (Rt 30). Ramps access the sanctuary or up to the Hall (and bathrooms).
The sanctuary is equipped with hearing assistance with a T-coil- picked up by equipped hearing aids or hearing packs at the door.